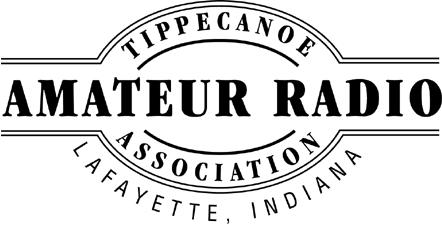 Serving the Community since February 1951

P.O.BOX 8081, Lafayette, IN 47903-8081

Members | Hamfest Location | Field Day
T.A.R.A HISTORY | Silent Keys
T.A.R.A Photo Album | Ham Radio Links | T.A.R.A Maps
T.A.R.A Tattler -- The Club Newsletter --Minutes
Local Nets on the WI9RES Repeater
For local nets, Club membership is NOT required -- All amateurs welcome!
ARES Net meets on 145.370 - 600 KHz 131.8 PL tone, every Monday at 20:00
Check www.w9tca.com for Tippecanoe ARES info.
WI9RES Repeater Information check the exciting news about the new repeater site
on the WLFI transmission tower at Rossville! Donate to WIRES expansion and/or operations!
Click: www.wires-repeater.org!
Sign up for W9REG Radio Station Hosting at the
Imagination Station!
---
COMING EVENTS

It's dues renewal time for 2016!
Check Members page for info.

T.A.R.A. Meeting -- Now Second Wednesday of Month

Wednesday 7:30pm Sep 14th
Imagination Station
Classroom, 2nd floor
600 N. 4th St.

See you there!

Program Presentation


TBD

Schedule of Program Meeting Topics & See Survey!

HAM RADIO GENERAL LICENSE CLASSES
Contact

Neal, KI4YDG, if interested in the next classes, TBD.

TECHNICIAN LICENSE CLASSES
Contact

Neal, KI4YDG, above, if interested in the next classes.
Classes will be held at the SIA Training Center.
IN SR-38 just west of I-65 exit 168.
You must be "on the list" to get through the gate, so contact KI4YDG now!
---
T.A.R.A. Business
Constitution and Bylaws -- Revised 2003
Note: Bylaws were revised in November to reflect new procedures for setting
the monthly meetings. The updated bylaws will be posted soon. The nature
of the change was to allow more flexibility and obtain meeting space. The
previous version stipulated the 2nd Tuesday as the monthly meeting,
resulting in difficulty scheduling meeting rooms.
Officers for 2015
(& Email links)

As outgoing president, I would like to acknowledge all the help from the officers and TARA members
that went into the planning and delivery of the program meetings, Field Day and Hamfest.
Without that help, we could not have had the fun year we did. Thanks to all! I look
forward to a great 2016! Please support the club and officers! 73 Neal KI4YDG.

President Morgan Benner KC9SWV &nbsp
Vice President Nathan Tilley N9NWT &nbsp
Secretary Kevin Lambert KC9ZNL &nbsp
Treasurer Earle Nay AB9EN &nbsp
Director Neal Lynch KI4YDG &nbsp

---
CLUB MEETING INFORMATION
Club Meeting: 7:30 p.m. on the 2nd Wednesday of each month
Join Tippecanoe Amateur Radio Association
See above, under "Coming Events" for meeting times and locations!
Thanks to HamTestOnline™ for the free subscription prize at the Hamfest!